Join our Book Club with a native teacher!
English Level: Intermediate
1st book:
1st meeting:
Tuesday 8th May at COME IN BOOKSHOP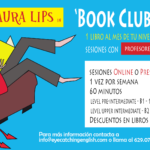 19:00-20:00
Once a week: ONLINE SESSION
You'll have a 1-hour weekly online session with a native teacher to talk about the book and look at vocabulary, grammar etc. that comes up (appears).
Then, after finishing the book, you are invited to join a monthly meeting at Come In English Bookshop to discuss the book face-to-face with your teacher and classmates in a more social environment.
If you buy the book at Come In you will receive a 5% discount!